Detailed History of Neuschwanstein Castle
Contents
Neuschwanstein Castle's history is one of grandeur, tragedy, and mystique. Built by King Ludwig II, the castle was meant to serve as a retreat and a symbol of German Romanticism, paying tribute to the composer Richard Wagner. However, Ludwig's grand vision was cut short by his untimely death, and the castle was left unfinished. Despite this, Neuschwanstein's glory has only grown over time, with the castle becoming a popular tourist destination and an iconic symbol of Germany's cultural heritage.
Keep reading to take a deep dive into the castle's magnificent history and significance!
What Is Neuschwanstein Castle?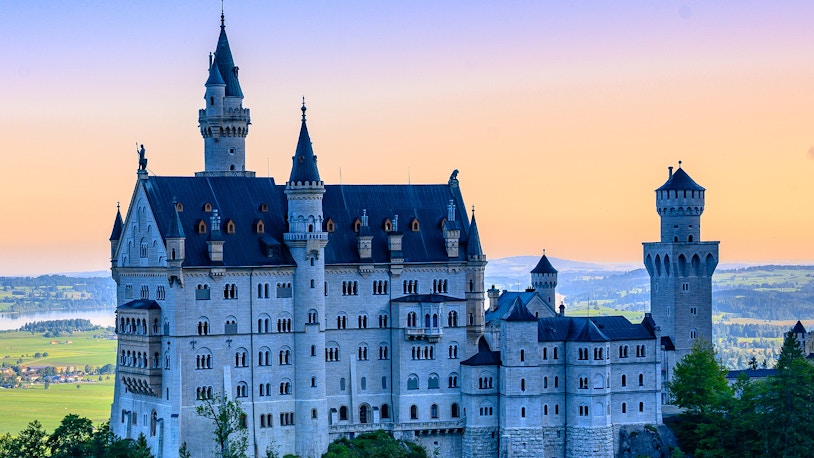 Neuschwanstein Castle is a stunning palace in the Bavarian region of Germany and is one of the country's most famous and visited landmarks. It is a fine example of Romanesque Revival architecture, characterized by its medieval-inspired towers and turrets, intricate stonework, and intricate interior details.
King Ludwig II commissioned the construction of Neuschwanstein, which began in 1869. Architect Christian Jank made the castle's overall design, while various artists, such as Julius Hofmann and Carl von Effner, designed the castle's interiors, including intricate murals and decorations that cover almost every surface of the palace. The castle was a masterpiece of engineering, with its advanced heating and plumbing systems, and it was equipped with the latest technology of its time.
However, King Ludwig's grand vision for the castle came to an abrupt and unfortunate end when he passed away before the completion of the castle's construction. Despite this, Neuschwanstein has become a popular tourist attraction and a symbol of Germany's rich cultural heritage. Its stunning architecture, lush surroundings, and rich history make it a must-visit destination for anyone visiting Germany.
Where is Neuschwanstein Castle Located?
Address: Neuschwansteinstraße 20, 87645 Schwangau, Germany
Neuschwanstein Castle is situated in the village of Hohenschwangau in Bavaria, Germany, near the Austrian border.
Neuschwanstein Castle History Explained
Construction Work Begins (1868)
Construction of Neuschwanstein Castle begins under the patronage of King Ludwig II of Bavaria. The castle's construction was King Ludwig's passion project, and he was involved in every aspect of the planning and design. He wanted to create a magnificent palace embodying the romantic ideals of the Middle Ages and the chivalric legends of Germany's past. The castle was built on a hilltop overlooking the village of Hohenschwangau and Lake Alpsee, and it was designed to be a grand retreat for the king.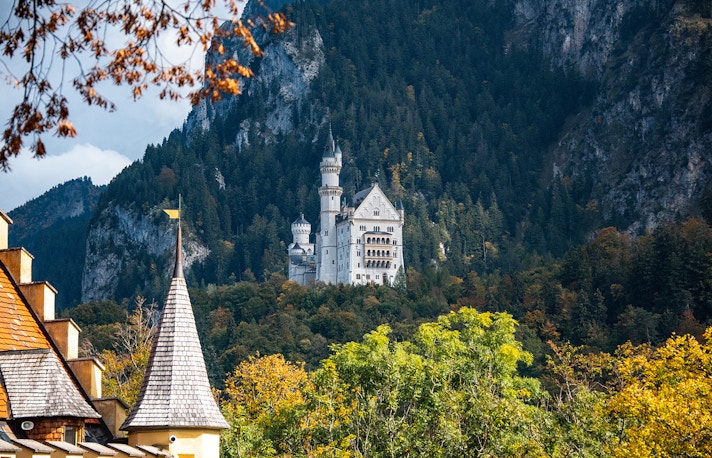 Demise of King Ludwig II (1886)
King Ludwig II dies under mysterious circumstances in Lake Starnberg, and construction on the castle stops. King Ludwig's reign ended abruptly when he died under mysterious circumstances while out on a boat trip on Lake Starnberg. His death was officially ruled out as a suicide, but many theories about what happened exist. After his death, construction on the castle was halted and left unfinished.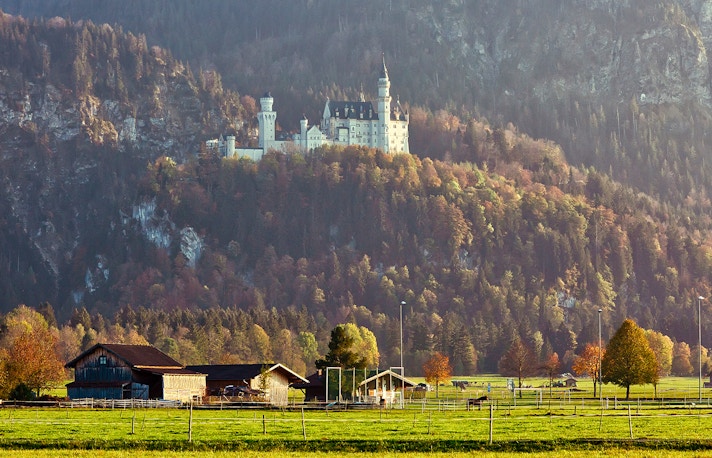 Opening of Museum (1886-1887)
Neuschwanstein Castle is opened as a museum just seven weeks after King Ludwig's death. Visitors were allowed to tour the castle's completed parts and see the grandeur of Ludwig's vision firsthand. The palace quickly became a popular tourist attraction and remains one of Germany's most popular tourist destinations today.
Bavarian State Ownership (1919)
The Bavarian state takes over ownership of Neuschwanstein Castle from the Wittelsbach family. After King Ludwig's death, the ownership of Neuschwanstein Castle passed to his nephew, but the castle was eventually acquired by the Bavarian state in 1919. The state has been responsible for maintaining and preserving the court ever since, and it remains an important cultural and historical site in Bavaria.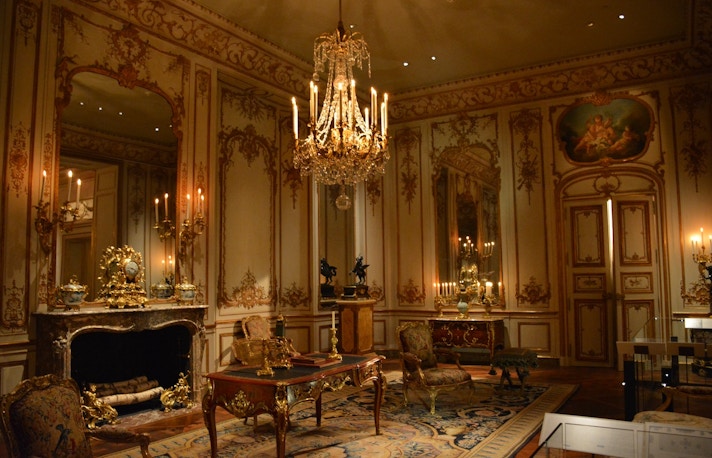 Nazi Regime Control (1933-1945)
From 1933 to 1945, Neuschwanstein Castle was under the control of the Nazi regime led by Adolf Hitler. During this period, the castle was used as a storage facility for looted art and treasures that were taken from across Europe. The castle was also used as a military barracks and a training ground for the Hitler Youth, which caused significant damage to the interior and exterior of the palace. After World War II ended in 1945, the Allied forces occupied Neuschwanstein Castle and used it as a base for American troops. The castle was subsequently returned to the Bavarian state, and restoration work began to repair the damage caused during the war.
Get to know some facts about Neuschwanstein Castle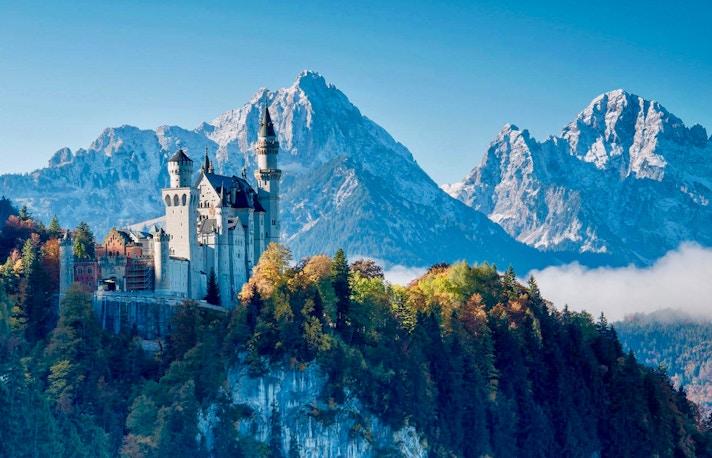 Opened to Public (1949)
In 1949, Neuschwanstein Castle was officially opened to the public as a museum, following extensive restoration work that had taken place after the end of World War II. The castle quickly regained its status as a popular tourist attraction, drawing visitors from around the world who were eager to see its grandeur and beauty. Today, Neuschwanstein Castle is widely regarded as one of the most iconic and beloved landmarks in all of Germany.
The Architecture of Neuschwanstein Castle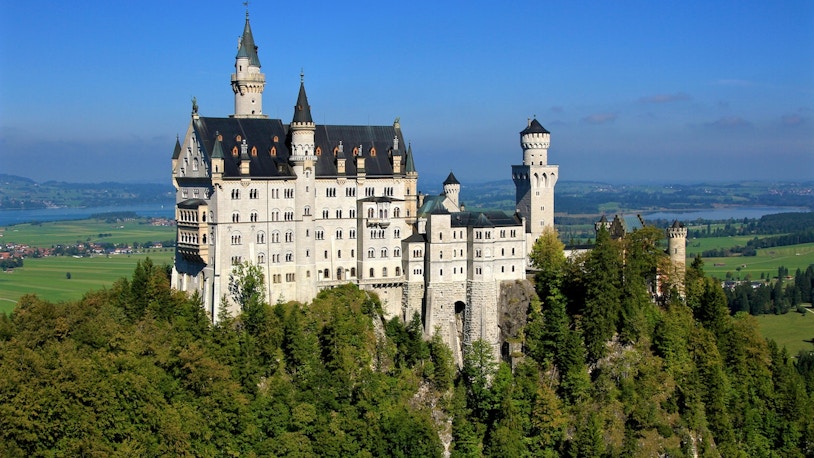 Neuschwanstein Castle is a magnificent example of the Romanesque Revival architectural style popular during the 19th century. The castle was designed by Christian Jank, a theatrical set designer rather than a professional architect. The works of Richard Wagner, the famous composer and friend of King Ludwig II, heavily influenced it. The castle's towering turrets, ornate facades, and intricate carvings are a testament to Ludwig's romantic and artistic vision and were designed to evoke the grandeur and majesty of medieval Europe. The castle's interior is equally impressive, with lavish decorations, murals, and furnishings that showcase the finest craftsmanship and artistic talent of the era. Overall, Neuschwanstein Castle is a stunning example of the intersection between art, architecture, and history, and a must-see destination for anyone interested in the beauty and grandeur of European palaces and castles.
Find out what's inside Neuschwanstein Castle
Book Tickets To Neuschwanstein Castle
Frequently Asked Questions About Neuschwanstein Castle History
How old is Neuschwanstein Castle?
Neuschwanstein Castle was built in the 19th century and was completed in 1886, so it is approximately 137 years old as of 2023.
Why is Neuschwanstein Castle famous?
Neuschwanstein Castle is famous for its picturesque location, breathtaking architecture, and its association with the enigmatic King Ludwig II of Bavaria.
Where is Neuschwanstein Castle?
Who built/designed Neuschwanstein Castle?
Neuschwanstein Castle was designed by Christian Jank, a theatrical set designer, and built under the direction of King Ludwig II of Bavaria.
What is the architectural style of Neuschwanstein Castle?
How much does it cost to visit Neuschwanstein Castle?
The guided tour cost of Neuschwanstein Castle starts from €59.90. The prices may vary, depending on the experience you choose to visit. Check out all the ticket types here.
Are there any self-guided tours at Neuschwanstein Castle?
What are some interesting facts about the Neuschwanstein Castle?
One of the most interesting facts about Neuschwanstein Castle is that it is the first palace in the world to be fully powered by electricity, thanks to a hydroelectric power plant built nearby.
Is it worth visiting Neuschwanstein Castle?
Neuschwanstein Castle is definitely worth visiting, as it is not only an architectural masterpiece but also offers stunning views of the surrounding Alps and a glimpse into the history of Bavaria.